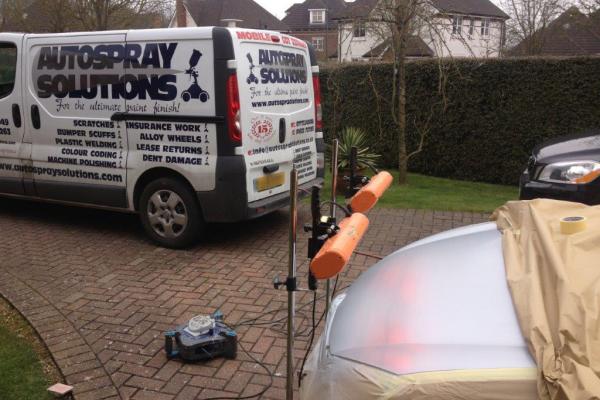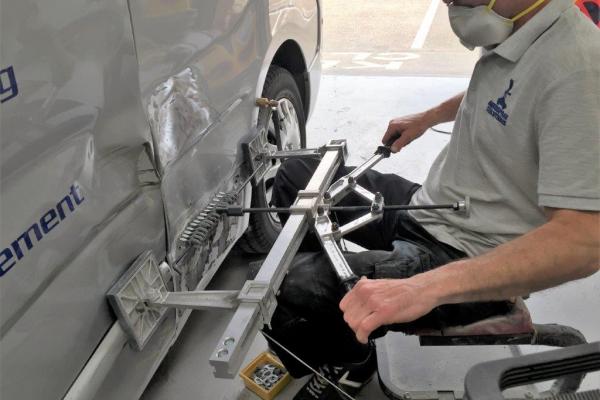 Mobile and premise based car body repairs and paint spraying
Autospray Solutions offers a convenient and cost effective car body repair service, both mobile and local premises based in Aylesford, Kent.
Body repairs and paint spraying in Aylesford
Autospray Solutions offer a car body repair service at our Aylesford premises, which is fully equipped with the latest technology to offer a range of even more efficient services, should this be more convenient for you. The team at Autospray Solutions are highly trained and have the ability to repair metalwork or plastic as long as the vehicle hasn't been damaged mechanically or the bodywork severely smashed (small / medium dents are fixable).
Depending on the damage, we use various different techniques to repair metalwork and plastic. We use a special technique on the paintwork, which means that you can drive your vehicle on the same day we repair it. We will provide you a quote, either in person, by telephone or e-mail and if you are happy to proceed then we will agree a date, time and location that suit you. All mobile repairs are completed within one day, with most taking between 3 and 4 hours, depending on the level of damage.  Bodyshop repairs are completed within one to three days, on average.
Mobile body repairs and paint spraying
We can carry out the job at a location of your choice, be it your house or workplace. All we need is enough space for our van and your vehicle. As we are able to offer a mobile service, it means we have reduced overheads. We only repair the damaged area meaning that we use less materials and less time is required. This all adds up to savings that we pass on to you by offering the most cost effective solution for your damaged bodywork.
Our range of body repair and paint spraying services
Check out our range of services below, however if you are not sure what category the damage to your vehicle falls under (pin dents, small holes, rust erosion etc.) then do get in touch via our contact page and we'll be able to advise how we can help.